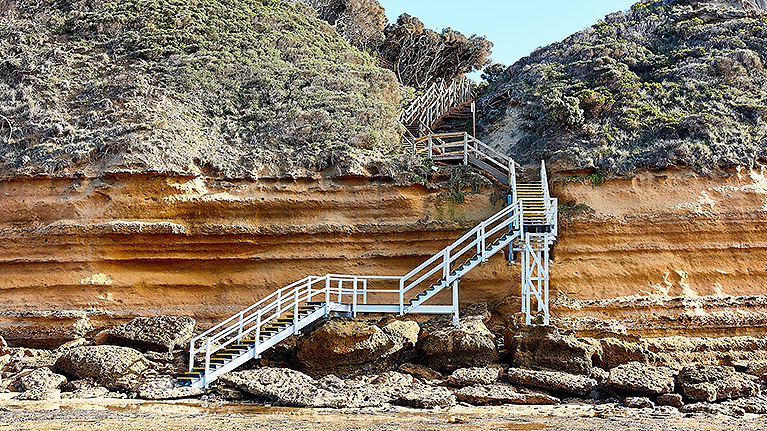 Detailed design and construction phase support
Storm damage in 2017 necessitated the complete replacement of the beach access staircase, upper tier lookouts and boardwalk sections at Jan Juc, on the Victorian Surf Coast.
AW Maritime was engaged by the Great Ocean Road Coast Committee to provide an options analysis and detailed design for an FRP replacement structure. Working alongside GORCC and CMW geotechnical engineers, AW Maritime provided detailed design and construction phase support for the project.
The use of a helicopter to transport the new stairs for installation was a technique decided on to significantly reduce construction time. In a display of tremendous skill, the helicopter pilot and the team on the ground worked with incredible precision to manoeuvre the old staircase out and lower the new staircase into place.
The lower tier replacement stairs have been constructed using Wagners FRP materials and non-slip FRP treads, designed to be safer and withstand the predicted impacts of climate change. Upgrades to drainage will also be completed to help prevent erosion.
The project was funded by the Great Ocean Road Coast Committee's capital works program and a $60,000 grant from Department of Environment, Land, Water and Planning (DELWP) Coastal Environments Grant Program.
For more information, please visit https://www.gorcc.com.au